Happy Birthday to:
Bryce Maybee - Jan 2
Jackie Hunt - Jan 4
Belva Perry - Jan. 5
Michelle Alfera - Jan. 12
Allyn Hamblin - Jan 17
Milas Cook - Jan. 21
Heaven Smith - Jan 22
Trent Maybee - Jan. 25
Tina Ayers - Jan 29
Tracy Maybee - Feb. 3
Jacob Stark - Feb. 4
Lori Maybee - Feb. 5
Veronica Sparks - Feb. 6
Craig Stark - Feb. 6
Barbara Carter - Feb. 6
Amy Marie Cook - Feb. 7
John M. Maybee - Feb. 14
Bill Hamblin - Feb. 17
Forrest Stieber - Feb. 19
Delsa Daniels - Feb. 19
Randy Hanks - Feb. 19
Scott Maybee - Feb. 20
Isaiah Comer - Feb. 23
Amanda Stark - Feb. 25
Joe Stark - Feb. 26
Denise Stark - March 1
Joshua Ortiz - March 3
Taryn Stieber - March 3
Alice Schreck - March 5
Jim Waldean - March 10
Melanie Smith - March 11
Babette Cook - March 29
Haven Schreck - March 30
NEW ADDRESSES & E-MAIL ADDRESSES
Charlene Ackert
3222 Rucker Ave. - Apt. B
Everett, WA 98201
Anita & Forrest Stieber
ronin@net-nw.com
Wendy MayBee
727 Wilderville Lane
Wilderville, Oregon 97527-9533
Lance & Debbie Larson
larsonled@aol.com
Duane & Ronda Stark
dstark4437@aol.com
Tina Ayers
12223 Mountain Cruiser Lane
Apt. B110
Silverdale, WA 98353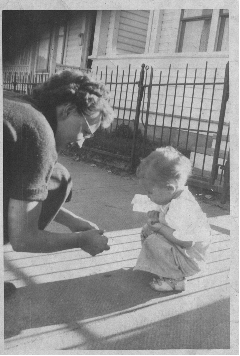 Photograph is of two of our birthday girls.
It was taken in Butte in 1952.
PASSAGES
Richard T. Schreck
1948- 1999
Father of Haven, Marketta, Alice, Katharine, and Richard Schreck
Michael Bell
1939- 1999
Father of Shelly, Teresa, Wayne Harry, Jon and Michael Paul
FAMILY REUNION:
The family reunion for this year is still in the planning stages. Tentatively it will be around July 24th. It will be a two-part reunion, with the first half in Butte and the second half in Farmington, Utah.
We are hoping that we can involve some of the younger (teen and young adult) members of the families to plan activities, so that there will be activities for ALL ages.
BOB & BELVA & FAMILY
The family celebrated the New Year by going to the Egyptian Exhibit in Seattle where they learned about the common people of the 3 major time periods, both in Nubia and lower Egypt. The Kralls celebrated their own 'trip to Egypt' by watching the movie, "Prince of Egypt". Byron took his friend, Debbie, and her daughter, Meg, to see the movie "Babe, Pig in the City. Meg enjoys staying overnight with Bret and Vickie's children and coming to Family Home Evening with the Perrys and Debbie always brings something good to eat when she visits.