Calendar of Birthdays
Family History
Family Stories
Don Stark History
MayStar Archives
Family Profiles


Family Cookbook
Index of Recipes

Send in your Recipes
New Recipes
Southern Recipes

HKPP Website
JOSEPH HERMAN STARK
1952 - 2000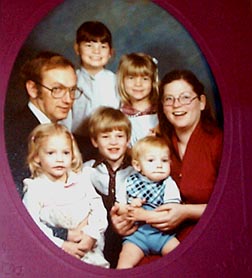 Joe with his family

Joseph Herman Stark was born on February 26, 1952. Following the naming patterns of his father, Don, he was named after men that Don admired, the prophet Joseph and Don's father Herman. Joe is the third child and second son of Donald Charles Stark and Rita Florence Millecam. His oldest sister, Delsa was born February 19, 1949, brother Duane was born August 9, 1950 and younger sister Deborah (Debbie) was born November 22, 1953.

Joe was always a quiet person. He tended to stay in the background at social events. He always had a sweet, shy smile. During his childhood years and later, his most enjoyable times were spent going out fishing or hunting with his grandpas Julius Millecam and Herman Stark or his dad and brother Duane. (Insert picture).
He loved playing with his cousins. When he was very small, he played with his aunts Allyn and Loretta at Grandpa and Grandma Millecam's house. He and Loretta were 'boy friend and girl friend'. They called each other "Ma" and "Pa".

Although he was a very quiet person, he was also very brave and steadfast as was evidenced by the way he faced cancer and eventually death. He served on a mission in Northern Ireland. When we asked him if he was afraid for his life, he just smiled and said, "Oh, the bombing is at least a block away."

After his mission, when work was very scarce, he joined the many others before and after him who came out to Everett to stay with Belva and Bob while he looked for a job. He was trained as a physical therapist and looked for jobs in that area. While here, he tried out for and got a part in a play about the Centennial at an Edmonds theater. He was an extremely good actor.

On March 4, 1977 he married Sheila Kay Bair. They had a son, Michael Todd Stark on December 26, 1977. He died May 4, 1978. Joe and Sheila were divorced.

Later, he met and fell in love with Debra Kay Anderson and they were sealed in the Provo Temple in 1981. She had 3 children from a previous marriage, Michelle, Amanda and David. The family lived in Lander, Wyoming. They soon became a close and loving family. Joe and Kay had 4 more children.

In 1984 Joe graduated from Central Wyoming College with an AAS in Electronics..

In 1984 he and Kay were part of a tri-ward choir.

In 1986 they moved to Casper, Wyoming.

In 1991 Joe was transferred back to Butte.

On February 6, 2000, after a long battle with cancer, Joseph Herman Stark passed away quietly. He had been able to work up until the last moment. He will be deeply missed by his family and friends.